This is a roundup post of the top 7 brass table lamps I was considering purchasing for my home office. I recently purchased furniture, lighting and decor for a home office for myself. It was so much fun. I love creating beautiful, comfortable, inviting spaces…especially when it's just for you! Up until this point, I have been either bending over at the sofa table working or with my laptop on the sofa or in bed.
I can not tell you how freeing it has been to have my very own space away from the tv and kitchen and action. It has really boosted my concentration and productivity. I also think it has improved the quality of my work.
While I was shopping for my space, I got completely obsessed with desk lamps. I loved so many of them that it was hard to chose just one, so I had to buy two.
Unfortunately, the lamp on the left has been discontinued by West Elm which makes me sad. That image is one of my best performing images on Pinterest right now and so many of you have asked me about this lamp. So I wanted to write a post to share my top picks that I was considering for my space to maybe give you some more ideas and turn that frown upside down. 🙂
Regularly Priced $149
Obviously I love this lamp because it is one that I chose. I love the milky white glass globe. It is very mid-century modern.
Regularly Priced $199
This is another lamp I was considering. I just think it is so unique. I like the asymmetry and sculptural aspects of it.
Regularly Priced $79
This is another lamp I was considering in place of the West Elm Petite Arc Metal Table Lamp that has been discontinued. It has more of an organic feel to it. It is a little less rigid which I like.
Regularly Priced $149
This is a task lamp I was considering because I thought it went very well with the West Elm Industrial Modular series which is the desk and side table I ended up purchasing. It is very eclectic in that it has the classic brass shade, but the industrial connections and exposed wires.
Regularly Priced $55
This lamp is gorgeous from the brass to the shape to the globe to the wood base. It is so well designed and so mid-century. I absolutely love it. It was a very hard decision between this one and the one I ended up getting. The reason I ended up getting the one with the full brass shade is because I was worried that the glare from the light would be problematic for task lighting. This would be a great little light on a side table as a sculptural piece.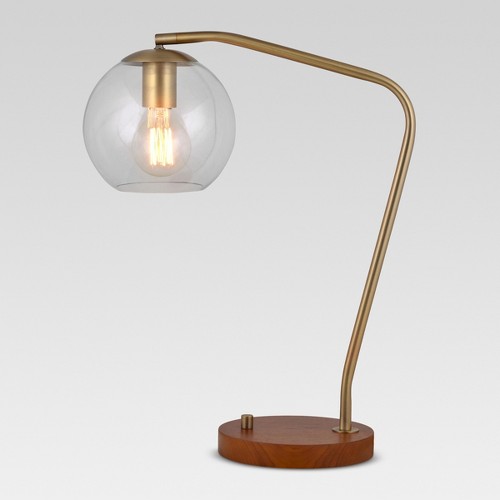 Regularly Priced $66
This brass task lamp again was right in the realm of what I was looking for and I really like it as well. I like the base and the shape of shade. I love the simple cylindrical on off switch at the base of this lamp and the previous one. Target is really nailing the time period of these pieces.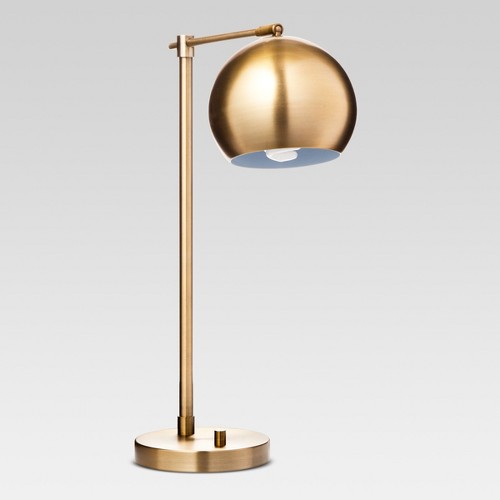 Regularly Priced $50
This brass table lamp is super cute and fun. This is the only lamp I found where the globe was exactly half a brass shade and half a milky white globe.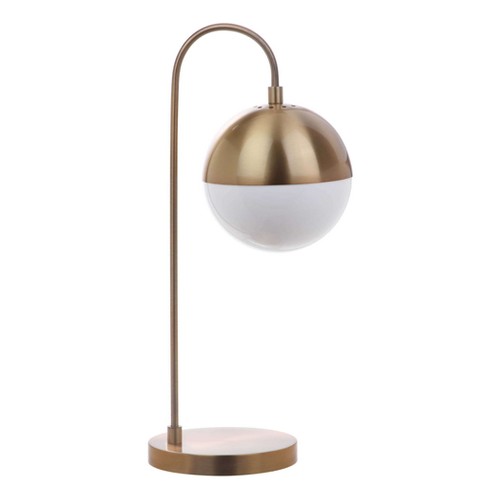 I hope this helps you in your hunt for the prefect brass lamp whether it be for a a desk or side table. If you end up purchasing a lamp, I would love to see it in your space. You can upload a photo in the comments. Also if you found another lamp that you love, mention it in the comments and upload a photo or link for others.
Please share this article to Facebook or Pinterest if you found it useful. It's super easy. All you have to do is click on the F or P on the left side of your screen.