This shop has been compensated by Collective Bias, Inc. and its advertiser. All opinions are mine alone. #BigLotsHoliday#CollectiveBias #ad #sponsored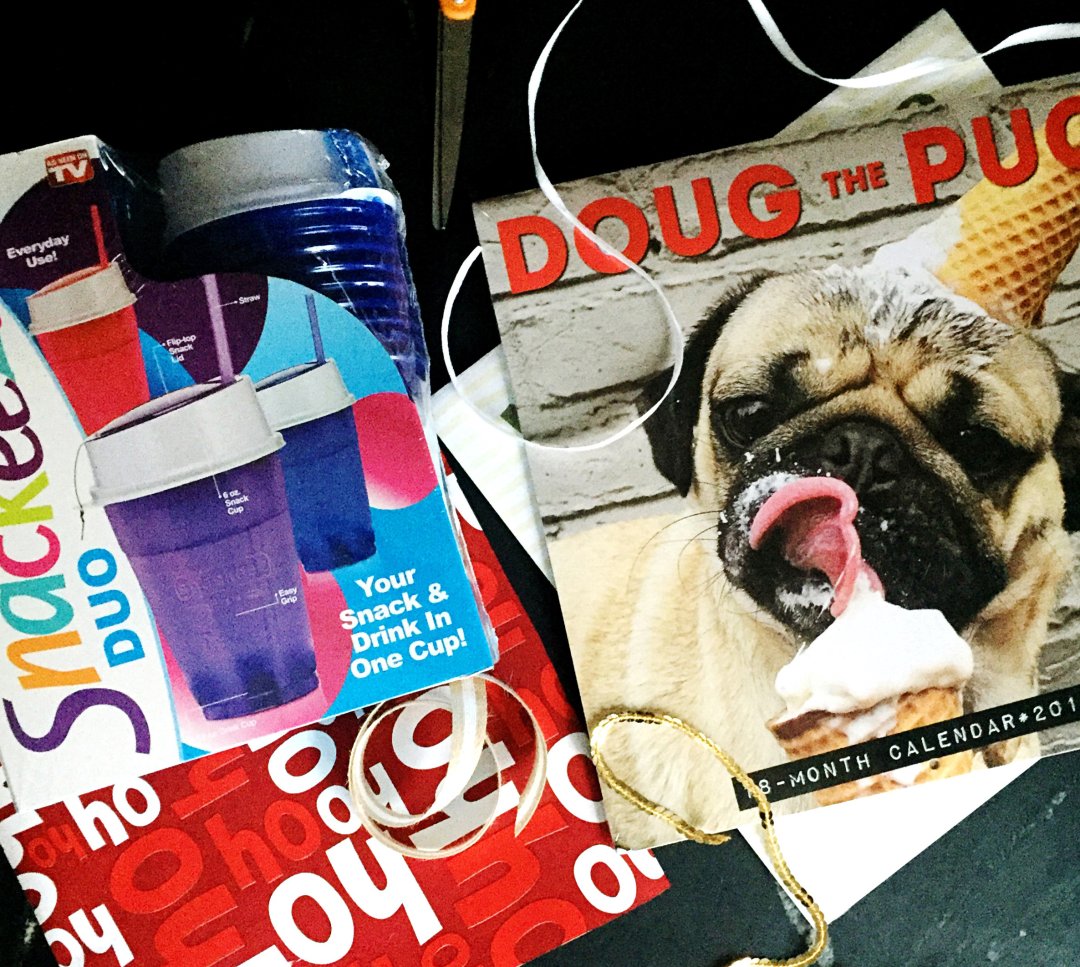 Several years ago, my book club started doing a "favorite things" party for our holiday gathering and this party has turned into the best book club meeting of the year. I have even spread this party idea to other groups of friends and it is a success no matter who is involved. Here is how it goes:
Remember how Oprah used to do her Favorite Things episode on her show around the holidays? It was the one where everyone in the audience got one of every gift she talked about, people freakin' lost their minds, and "you get a car, you get a car, you get a car!" Remember that? Well, this party is the non-Oprah bankroll version of that show.
Let's act like there are 6 people in your group. Each person buys 5 of their favorite thing, one for everyone who comes to the party. (And let's be honest, we always end up buying one for ourselves as well.) We usually have a price cap of between $5-$10 per gift depending on the group. At the party, everyone takes turns handing out their gift and the other 5 open them together. When the festivities are over, everyone goes home with a bag of 5 gifts that are totally awesome because they are the favorite things from your favorite people!
We have been having these parties for years and it is funny how every year we all end up creating a theme with the Christmas gifts without intending to. One year we all got each other food/chocolate products. Another year, it was all about self care – nail polish, loofah gloves, lip products. Sometimes people go big and actually make gifts, like my friend who used her scrap fabric pile to make us all makeup bags.
Gift giving is seriously one of my favorite things is life (hello…Christmas presents rock) but after all these years it is becoming challenging to come up with a new "favorite thing" that fits in the budget requirements. When I started coming up with a plan for this year's gift I realized that As Seen On TV items are literally one of my favorite things ever. Snuggies – love. Pajama Jeans – love. Vegetti – love. Put it in an infomercial and I am in.
With a plan in my head I jetted over to Big Lots because they always have an amazing selection of those on trend, as seen on tv items for a great price. I knew they would have something for the holidays for all my favorite people and I was totally right. They have a whole aisle dedicated to As Seen On TV treasures! It was a challenge to narrow down the whole aisle to just one item.
I have to say, I almost went with the Vegetti because we use ours all the time. I had 5 in my basket and was heading out of the aisle when I saw the holy grail of mom gifts and the Vegettis went back on the shelf. What caught my eye? Disposable Snackeez packs! You know the cup that also holds a snack in the top with a lid? Those things are amazing and have saved me from so many car disasters, but I didn't know Big Lots had the multi-pack disposable version! I haul various kids that aren't mine to practices and classes all the time and I never have enough snacks/drinks for them all. These cups are perfect for those times when you have a gaggle of kids around need to keep them alive/your car clean until their parents take over.
Five packages of Snackeez later and I'm ready for our 2016 Favorite Things party!